A guide on how to play in online coop with one copy of the game (no Remote Play Together) A Way Out.
How to Play Online (Coop)?
1. You only need one copy of the game.
2. You must be on the friends list in Origin.
3. Your friend should download a Friend Pass version from Origin (button "Try It First").
4. Host. In game select the Play Online option
5. Select the Invite a Friend option.
6. Done!
by fen.exe
---
How to Play Together?
Hello everyone and let's start our guide!
If you want to play A Way Out with your friend, you'll need:
1) One copy of the game. It is not necessary to buy a game for both accounts, one will be enough. You just need to decide who'll buy a copy. It's better for a person, who has better Internet connection and PC.
2) Download the game.
3) Start the game.
4) In main menu press the button "Play Local".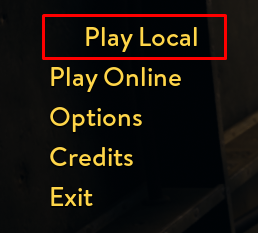 5) After joining the lobby, open Steam overlay (Shift + TAB) and invite your friend by pressing a button "Remote Play Together".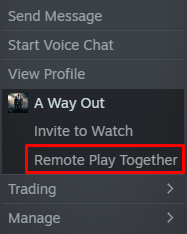 6) Play and enjoy the game <3
By Lil Underpants and 1 collaborators
---
Similar Posts:
---